Now that I'm back from Miami with a tan and some glam, I'm definitely a fan... of Parke and Ronen. Not because I can wear the collection, because it's for men... but, because the type of man who wears it is definitely my type. And, since I review fashion for a living, it's always a perk to travel and a bonus to view a beatiful boy... or two... or six in a row. Goodness... I love my job!







With the Raleigh Hotel serving as a luxuriously lush background, with jungle landscaping and stark white interiors that remind me of the British Raj and are so signature CSI Miami,










... the afternoon's appointed haute spot was definitely poolside with a showcase of the latest offerings from Parke and Ronen.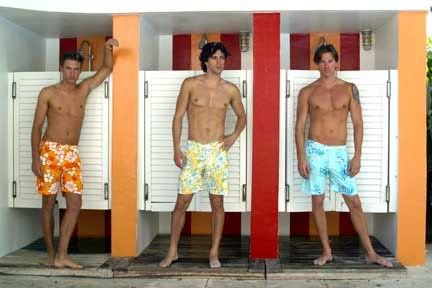 I've always believed that Speedos were more of a hurt (they're so damned tight) and a hindrance (a guy can loose the circulation in his legs). So, the new collection from Parke and Ronen is a welcome, stylish alternative... at least several cuts above pedestrian surfer shorts and lightyears more attractive than traditional trunks, especially for those of us beach girls who consider eyeing our local surfers as a spectator sport.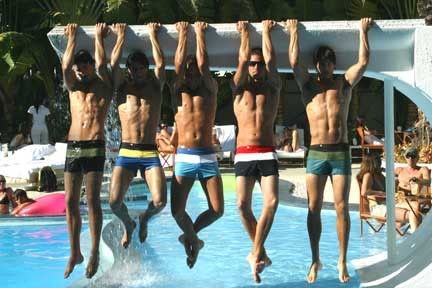 A favorite among celeb hunks Heath Ledger and Andres Balazs, Parke & Ronen has grown to be a pioneer in the men's swimwear world and a leader in its industry since its conception in June 1997. We had a blast previewing Parke & Ronen's men's Summer 2007 collection poolside while we schmoozed and cruised to the sultry sounds by DJ's Daniel Stern & Tavin Riter. I can remember thinking, "Is this why I went to film school?"... before resuming a heated conversation with a party of French men on vacation who just happened to be staying at the hotel. The vibe being conducive to all things sexy, more than than 30 swimsuits were sold in just three hours at the Raleigh Hotel cabanas, since guests were given the opportunity to purchase swimsuits on-site straight off the runway plus received styling advice from the designers themselves.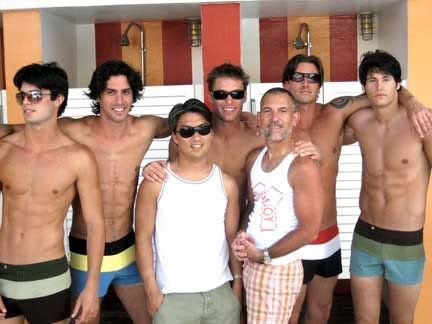 Interestingly enough, the most intimate purchases were made by women for their husbands, lovers and "special friends"... possibly in retaliation and preparation for more playful Summer encounters on the sand and sea... because each swimsuit is especially designed for comfort and convenience... meaning that it's a lot easier for a girl to slide off her man with one hand than one of those tight little speedo thingies... spontaneity is everything... don't you think?
Marie Bargas